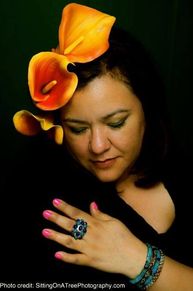 TRICIA SEBASTIAN
Multi-instrumentalist/ Mezzo-soprano/ Songwriter/ Music Integration Educator 
Tricia Sebastian a Chicago transplant from Corpus Christi, Texas, is the founder of CATS-Creating Arts Together With Songs, a music company for families teaching world music and music integration.  Tricia is known for her bilingual children's music. Her CD Canta Conmigo-Sing With Me has been featured in other children's compilations CDs and the song "El Chocolate" was rerecorded in New York City for a national ad campaign for Quaker's Chocolate Comes to Life Cereal. The song was also aired on ABC's hit sitcom Ugly Betty. The Chicago Tribune says, "Sebastian's playful, robust soprano could spark a Tex-Mex campfire; her CD Canta Conmigo crackles with classical guitar and hand percussion." Tricia's latest release Corazon Alegre-Happy Heart is a collection of traditional and original tunes with a fusion of world rhythms.
As an educator, Tricia worked with Ravinia Festival's Outreach Discovery Program for over a decade teaching music integration to children in Chicago's schools with underdeveloped art programs specializing in the Spanish speaking communities.  She also worked with the Old Town School of Folk Music for seventeen years teaching Bilingual Wiggleworms, Coro de Las Americas, Latin Rhythms, Estudiantina, Romantic Songs in Spanish, Beginner Guitar in English and Spanish, and more.  In the past, she directed the Estudiantina Corpus Christi ensemble at Texas A&M in CC, TX and taught at two private middle schools teaching choir and band. She has toured extensively in Mexico, Spain, and the United States and continues to perform and record in the Chicagoland area and abroad. 
Quotes:
Not kidding: Sebastian honed her chops in folk styles -- including huapango, bolero, ranchera, and polka -- traveling and playing in Mexico and Spain. Why we like her: Sebastian's playful, robust soprano could spark a Tex-Mex campfire; her CD "Canta Conmigo" crackles with classical guitar and hand percussion. Plus her longest song is about 2 1/2 minutes -- perfect for tot attention spans.
The collection is split between songs entirely in Spanish, songs in English, and songs that are a combination of both languages, retaining the sense of the Texan Latino culture in which Sebastian was raised. Her treatment an entirely original blend of salsa, samba, waltz, huapango, bolero, and classic American folk is engaging and ear-catching. Her experience as an educator is very much in evidence in this vibrant collection that has great child appeal. An excellent choice for music programs, especially since many of the songs have been used with the children's choir Sebastian directs, and a great way starts the day in music classes.
Ann Welton, Helen B. Stafford Elementary, Tacoma, W
Sebastian effortlessly fuses the styles and rhythms of Texas, Mexico, Latin America, and Spain into this delightful new recording. I have always loved Tricia's voice and her musical sensibilities, so it is no wonder that I would include this CD on my best of the year list.
 But when Ms. Tricia arrived and began to tune her guitar, they got impressively quiet. And, when they started singing, it was amazing to see how the kids had total command of lyrics and hand movements that they'd learned months ago. Kids who might, in the context of a math class or a reading lesson, be convinced that they're not smart or can't learn, were busting out with total confidence and joy. I'm a total sucker for this sort of thing, I know, but, as the kids were busy choreographing dance steps to a Brazilian song, I was thinking that maybe this is precisely the sort of stuff we shouldn't be eliminating.
"Thank you, Tricia, for offering something beyond the ethnic aisle - something so rich in culture and diversity. Also, thank you for being a role model to Spanish speaking kids as well as English speaking kids! Muchas Gracias!!!" 
Little Miss Ann - Littleshouldersmusic.com
Life Commercial - Tricia on Vocals & Guitar